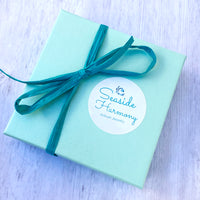 Gift cards now available
Want to give the gift of handmade jewelry but not sure what you should choose? Which sparkly stone? Which color? Maybe even a custom item. Everyone loves a gift card- it means choosing something special for yourself. Thank you for supporting handmade business!
Namaste, Sarah
choose your gift card
Enamel colors on Copper Waves
Customize with a special message
An exciting aspect of purchasing jewelry made by hand is that it can be personalized just for you.  My small and large enamel waves can be personalized on the back with a short message or name.  Give a gift that someone will know was truely made just for him or her.  Just click the personalization option while shopping for waves.
Check out copper wave necklaces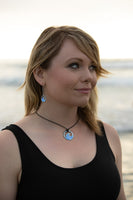 Enameling with a Modern Flair
Enameling in an ancient art form.  Enamel is granulated glass that is fused onto metal with intense heat.  The beauty of enamel combined with its durability makes it a perfect medium for gorgeous, versatile pieces.
Learn more about enameling